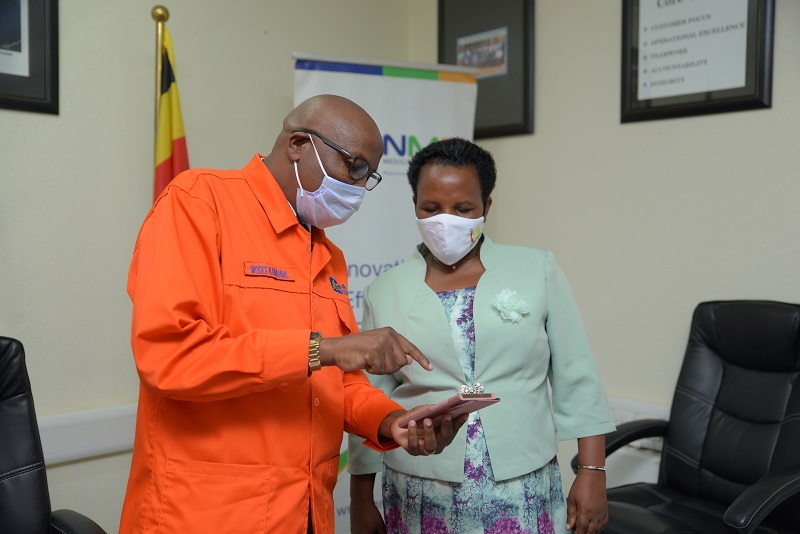 Inspectorate of Government Officials impressed by progress made by NMS during courtesy visit
---
Kampala. 20th April, 2021- National Medical Stores (NMS) hosted a team from the Inspectorate of Government to create awareness about its operations, challenges faced in executing its mandate and establish a working partnership with the institution.
While addressing the Inspectorate representatives, the General Manager NMS- Moses Kamabare noted that while NMS fulfills its mandate of delivering medicines and medical supplies to the public health facilities, some individuals in charge of the supplies at the health facilities hoard the supplies with hopes of selling them illegally.
"Through the NMS Last Mile Delivery of commodities, we ensure essential medicines and health supplies are delivered right to the door step of the health centers and the in-charge of the center receives and signs a delivery note confirming receipt of the supplies. However, we continue to receive reports of claims of absence of the medicines and supplies which we investigate only to find that they have been shelved for months with an agenda of selling the medicines and supplies yet they are not for sell."
Kamabare further noted that some people obtain medicines from various facilities feigning sickness with the purpose of selling the medicines while some pharmacists prescribe medicines outside the health centers or in large quantities against the Ministry of Health Standard Clinical Guidelines thus causing harm to the health of the recipient.
"We have seen some people who pretend to fall sick and pick medicines which are not for sell from various public health facilities and they have made businesses out of this, selling to people even across the border. It is imperative that we therefore develop a system to monitor and track the amount of medicines people receive from any public health facility across the country because this affects the availability of medicines. We need to hold these perpetrators to account," he said.
The Inspectorate of Government team comprising of Director Leadership Code, Annet Twine, Manager Strategic Partnerships and Public Relations- Munira Ali, ManagerVerifications, Amos Baguma and Senior Inspectorate Officer, Pauline Nansamba expressed appreciation of the information shared with them and promised to support the store in ensuring availability of medical supplies especially in the regional health centers.
The Inspectorate Manager Strategic Partnerships and Public Relations-Munira Ali called for partnership between the Inspectorate and NMS to hold recipients of the medical supplies to account.
"One of the things we do is monitor implementation of government programs but we've also done this through empowering communities. We have over 90,000-foot soldiers mostly in the northern part of the country and we want to see how we can actually work together to utilize these foot soldiers. We have a lot of experience working with them. When you deliver drugs, can you give them a copy of the medicines that have been delivered so that if there's any issue, someone may even be able to approach them and ask them about the unavailable supplies and they can help them to go and find out by demanding for information."
In a letter addressed to NMS by Mariam Wangadya, Deputy Inspector General of Government and presented by Director Leadership Code, Annet Twine, she noted that, "The health sector is one of the most scrutinized public service as it directly affects citizens' right of life and it is for this reason that NMS must espouse the highest level of integrity in performance of their duties. We are happy with the innovations NMS has put in place to promote efficiency in their work and also promote accountability and integrity. I encourage NMS to ensure that systems and procedures are transparent and that accountability is done in a timely manner."
The visit concluded with a tour of the new state of the art NMS warehouse in Kajjansi during which the IG team further expressed appreciation of the strides taken by NMS in ensuring availability of safe and standard medical supplies in the country and re-echoed their support.