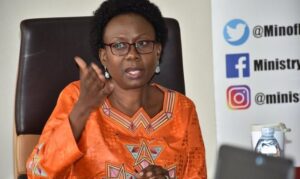 Dr. Jane Ruth Aceng Ocero
Minister Of Health
---
National Medical Stores is one of the Government parastatals that one is proud to be associated with. It was struggling as recently as 2009, but when Government took a decision and reverted the policy of giving funds directly to the districts to buy their own medicines and invested in NMS to improve on medicine availability, the institution has developed tremendously. Since that time, it has had a steady growth curve, and has evolved into an institution that meets the demands of the entire country for essential medicines within their available budget, transporting and distributing them to all the facilities in a timely manner.
That NMS has come up with innovative ways to ensure that, at any time, health facilities have medicines that they need is extremely commendable. NMS now has a presence in many regions of the country through their customer care personnel and offices. They now visit health facilities and offer support to the health workers, teaching them to plan for what they need and develop their procurement plans.
And NMS has not forgotten those that might not have adequate personnel to order medicines, as occasionally happens at HC III level, for example. NMS offers support through pre-planned procurement that is signed off by the District Health Officers on an annual basis. This not only saves time but also doubly addresses the issues of staff shortages and medicine availability. I really must commend the Management and the Board of NMS for steering the institution to where it currently is.
NMS is now set to expand, and the massive warehouse stores they are setting up at Kajjansi will be able to cater for all the country's needs in terms of storage of medicines and supplies. I am looking forward to its opening in mid-2019.  We will be able to store real bulk, especially of infection control materials, in preparedness, as we are prone to outbreaks on an almost daily basis.
Another commendation I offer NMS is on how it improved and expanded its fleet, including the integration of cold-chain trucks that are able to transport vaccines to the various districts and health facilities, and again on a timely basis. This ensures not only that the cold chain is not broken, but also that vaccines are available. And it is amazing that NMS is able to distribute vaccines to the entire country within a fortnight, and even do so on a monthly basis.
This' something we are extremely proud of, and that is why UNICEF awarded NMS as one of the best stores for medicines and health supplies in Africa. I thus wish to congratulate NMS on reaching 25 years and on doing a good job to ensure that the population of Uganda has medicines and receives them in a timely manner.
I also want to congratulate the NMS team on the spirit of teamwork,  compassion, and being determined to serve the country and see the people of Uganda healthy and ready to contribute to the growth of the economy. Thank you for being passionate about our lives.
---