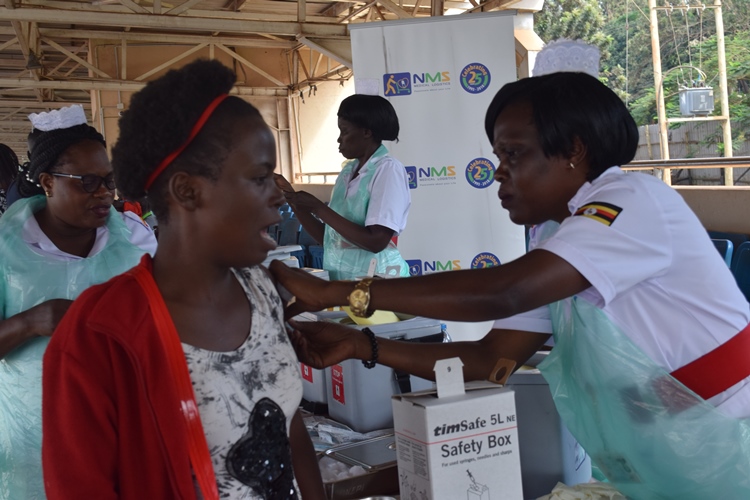 As early as 6:00am, hundreds of Ugandans had already camped at Kololo Ceremonial Grounds waiting for the National Medical Stores(NMS) and Ministry of Health(MOH) teams to come and administer to them the yellow fever vaccination free of charge.
The vaccination exercise was aimed at helping Ugandans who may not afford to pay sh100, 000 at Kampala Capital City Authority and other private health facilities.
Yellow fever is a viral haemorrhagic disease caused by a virus transmitted to humans via an aedes mosquito bite or to humans from primate reservoir via a forest mosquito species. People who become ill usually present with acute onset of fever with at least abdominal pain, diarrhoea, headache, jaundice, unexplained bleeding.
NMS's Principal Public Relations Officer, Dan Kimosho said the corporation came up with the idea of giving free yellow fever vaccination to Ugandans as part of corporate social responsibility having realized that yellow fever vaccination is at high cost in health facilities.
Kimosho explained that in partnership with the Ministry of Health and Uganda Revenue Authority more than 7,500 people were vaccinated during the three-day exercise which started on 25th September and ended on 27th September 2019 at Kololo Ceremonial Grounds in Kampala as part of the National Tax Payers Appreciation Week.
"We are trying to push the issue of prevention in whatever we are doing, let's not focus much on treatment. Prevention is better than cure. Everyone is talking about treatment but how much medicine can be enough for treating a sick person. Can we undertake activities that will help people prevent diseases?", Kimosho said.
Health experts say vaccination is considered to be the most important and effective measure against yellow fever. Yellow fever vaccine is recommended for people who are traveling to or living in areas at risk for yellow fever virus transmission
Who is eligible for vaccines?
Kimosho said babies above nine months and adults below 59 years were vaccinated during this exercise. None Ugandans were not vaccinated.
What beneficiaries say
Florence Kiiza, a resident of Nansana in Wakiso District said this was a good initiative because getting a yellow fever vaccine is too expensive for most people. "My daughter who is three years old has been vaccinated and we have received our yellow fever card", she said.
In Uganda today, yellow fever card is a very essential document because it's one of the very critical requirements for those young people trying their luck on kyeyo in the Middle Eastern countries or even Europe.
"It's as essential as the passport itself and Shs150,000 is a lot of money of many of us who have never got any employment since graduating from campus," says John Okot one of the many young people at Kololo anxiously waiting for the NMS/MoH vaccination teams.
All those who turned up to benefit from the free Yellow fever vaccination campaign organized by the National Medical Stores-NMS were required to present their national identity cards.
NMS General Manager Moses Kamabare explains that in 2017 during the inaugural exhibition, over 90,000 Ugandans were vaccinated and issued with yellow fever cards.
Kamabare explains that it's something every Ugandan needs to undertake even without having any plans to travel abroad where having the vaccination card is mandatory.
He explains that Uganda receives thousands of refugees coming and in most cases these aren't vaccinated (from countries like DRC, South Sudan etc). They freely interact with Ugandans and if some of them carried the yellow fever virus, many people are going to be infected on coming into contact with him or her. And one is only safe if they had been vaccinated.
Kamabare recalls the devastation a yellow fever outbreak caused in parts of Kabale some years ago when refugees spread yellow fever like a bush fire engulfing an entire Sub County. World Health Organization (WHO) had to intervene with a grant that enabled GoU to procure adequate medication which Kamabare says is very expensive.
"It's curable but treatment is very expensive for many of our ordinary people to afford. That's why the best thing to do is to go for vaccination regardless of whether one is planning to travel abroad or not," Kamabare says.
He adds having yellow fever card is more important in travelling than even the visa because even EAC countries like Rwanda, Kenya and Tanzania will insist on the yellow fever vaccination even when they are visa-free.
"Unfortunately, refugees flocking into Uganda aren't required to have proof of yellow fever vaccination because their coming is considered an emergency and they are permitted free access on humanitarian grounds. Since refugees won't be stopping coming to Uganda, the best Ugandans can do is to get yellow fever vaccinated just in case', he explained.