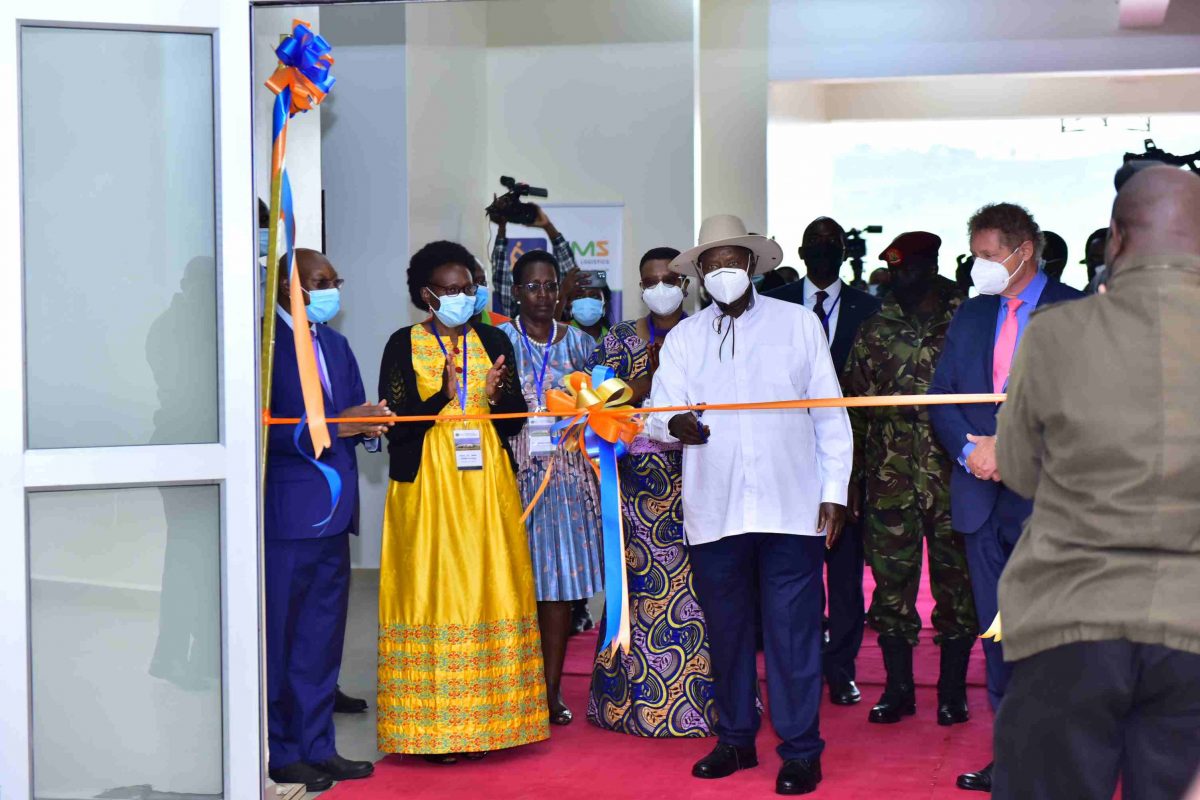 The President of the Republic of Uganda, H.E Yoweri Kaguta Museveni, on 3rd November, commissioned the new NMS pharmaceutical warehouse and office complex located in Kajjansi, off Entebbe road.
Over the years the Mandate, and volume of Essential Medicines and Health Supplies, handled by National Medical Stores has increased. This has been a result of the incremental budgetary provisions by the Government of Uganda, and Support from our Development Partners. It was against this background that the Ministry of Health and the National Medical Stores (NMS) expanded storage capacity at the central level to manage the growing supply chain demands, hence the construction of this New Warehouse.
National Medical Stores undertook construction works of a modern pharmaceutical warehouse and office complex at Kajjansi site at a cost of approximately 69 billion Uganda Shillings. The Government of Uganda provided 60% funding while the 40% was provided by Global Fund.
The new warehouse project in Kajjansi will improve the storage capacity with additional 30,000 pallet locations of warehouse space, which is almost four times the current capacity of our Headquarters in Entebbe.
Furthemore, the warehouse has the following cold chain storage capacity;
Cold(2° to 8°) -2,796,500 ltrs
Ultra cold(-80°) -14,732 ltrs
Freezing (-20°) -40,000 ltrs
This will effectively increase our storage, thus increasing our capacity to serve Ugandans by five times our current capacity.
One of the biggest modern warehouses, owned and operated by Government in the whole world, it currently sits on 10 acres of land. We have already acquired an additional 13 acres' annex to the warehouse for expansion in the near future.
The new NMS pharmaceutical warehouse is a green building with installation of energy-efficient solutions like the use of solar energy to run the building and provide natural light instead of using artificial power-consuming bulbs. The warehouse has a Solar system of 300kW of energy sufficient to cover 50% of the power requirements of the warehouse.
Other key facilities which have been taken care of include;
2,600m3 of large volume cold room area comprising of seven cold rooms and two freezers
Vehicle Garage
Central Vaccine Workshop and store
Board rooms and Meeting Rooms for 300 people at a time
Cafeteria for all staff with a seating capacity of 300 persons at a time
Oxygen Plant able to produce 100 oxygen cylinders per day
A fully equipped data center and ICT equipment including computers, laptops and printers have been provided
Other Amenities for Staff Include:
A breast feeding center and daycare below 2 years
Gym for staff
First aid room
The operationalization of this new NMS warehouse will enhance efficiency and improve Government's performance in terms of availability of quality Essential Medicines and Health Supplies, and increase responsiveness to identified health needs of Ugandans.
There is also an onsite mechanical sewage treatment system and the clean water from this system will be used for the irrigation system that has been already installed at the site to keep the site green.
The facility is fitted with a fire detection and suppression system designed suitably for the different areas of the building. Part of the fire suppression system will make use of rainwater which is harvested from the building.
Most of these installations have been consolidated into the Building management system for easy monitoring of the building and other fitted gadgets like temperature, flood and humidity monitors.
The construction of this New Warehouse is a further demonstration of the Government's Commitment, through the Ministry of Health, in ensuring the availability of quality Essential Medicines and Health Supplies in all Government Health Facilities in Uganda. Access to Essential Medicines and Health Supplies is essential to the Ministry of Health and National Medical Stores.
NMS is eternally grateful to all the partners that made funding available for us to achieve this milestone.